Memorial Day is not just a long weekend. It is a day when we remember those who paid the ultimate sacrifice for our country! To show our support, we would love it if you joined one of our own veterans in a Memorial Day Ruck. Step off is at the American Legion in Whitefield at 0800. We will ruck to the Inn at Whitefield, turn around and ruck back. You may start and end with us or join in at any time. We will maintain a pace that keeps us all together. All ages and K9s welcome!

Middle School Baseball/Softball game vs Littleton today, Wednesday, May 25, begin at 4:30 due to bus issues.


You're invited to Popcorn and Young Poet's Poetry Night for Grades 4&5 and families! Copy and paste the following link for all the details!
https://5il.co/1am3d

Due to unforeseen things, this week's athletic schedule has been modified. Here is the updated version:
https://5il.co/tjjv

Upcoming Early Release Day Reminder at LES - Tuesday, May 17th Walkers/Parent Pick-Ups at 11:30 Early Bus Run at 11:45 Late Bus Run at 12ish


NO Middle School Softball Practice today, Friday, May 13th

Tuesday, May 17th is an early release day for Lancaster School! Here are the release times for students: Pick-Up and Walkers - 11:30 Early Bus Run - 11:45 Late Bus Run - 12ish This early release day is scheduled to allow for teachers to engage in the following topics: - Writing Assessment Scoring - Title I Programming - Special Education Training - Middle School Programming

Please take a moment to read this message from the Lancaster Health Office concerning Heat Exhaustion_Heat Stroke.
https://5il.co/18mxt

Please click the following link for information on 8th Grade Parent Night at WMRHS:
https://5il.co/18mxt



2022 Parent Letter

Grand Opening Sale

Lancaster Elementary School has launched an official online spirit wear store. Choose from hundreds of designs and garments that are delivered to your home in days! To celebrate the grand opening, use code SPIRIT515-FS to receive 25% off and get free shipping on orders over $50. Shop at
https://1stplace.sale/60007
.

Monday, May 2nd will be the first day of our new traffic pattern at LES. Please take a few moments to review the image attached. We have changed all of the signs and will have a staff member as you enter the school grounds to help with any questions that you may have.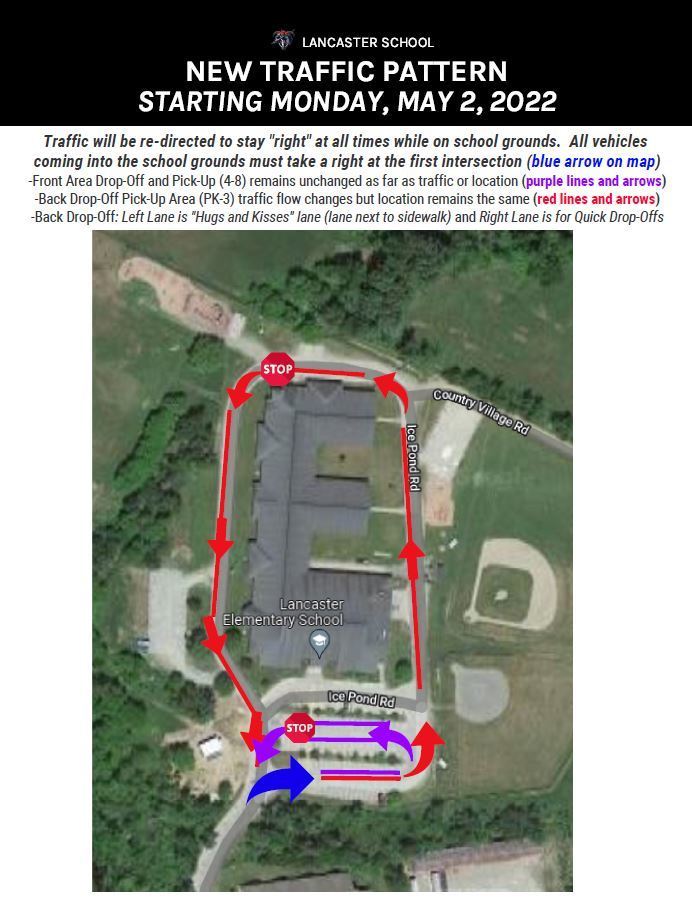 Summer Camp Opportunities: Culinary Art camp is full. Return your registration forms ASAP before the other camps fill up too.

Friday, April 22nd is an Early Release Day for Lancaster School students. Lunch will be served prior to student dismissal. Here are the release times for students: Pick-Up and Walkers: 11:30 Early Bus Run: 11:45 Late Bus Run: 12ish

This Tuesday, April 12th is SPRING PICTURE DAY! We are introducing a brand new amazing company company to our school. We hope everyone loves the results!