Middle school field hockey will be practicing at LES this Thursday from 3:30-5:00. The sports bus will start at WES to bring all soccer and FH players to LES. Boys soccer players will stay on the sports bus to go to their game in Groveton.

8th Grade Parent Night Wednesday, October 5th at 7pm Fundraising/Class Trip Information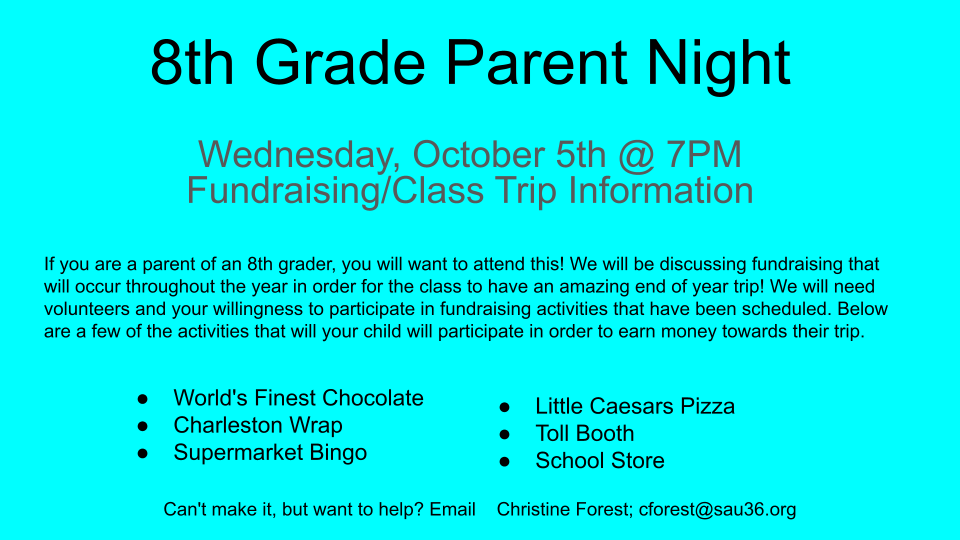 Homecoming Parade September 22 6PM Please check the flyer for details! We need 7th and 8th Grade Lancer help!!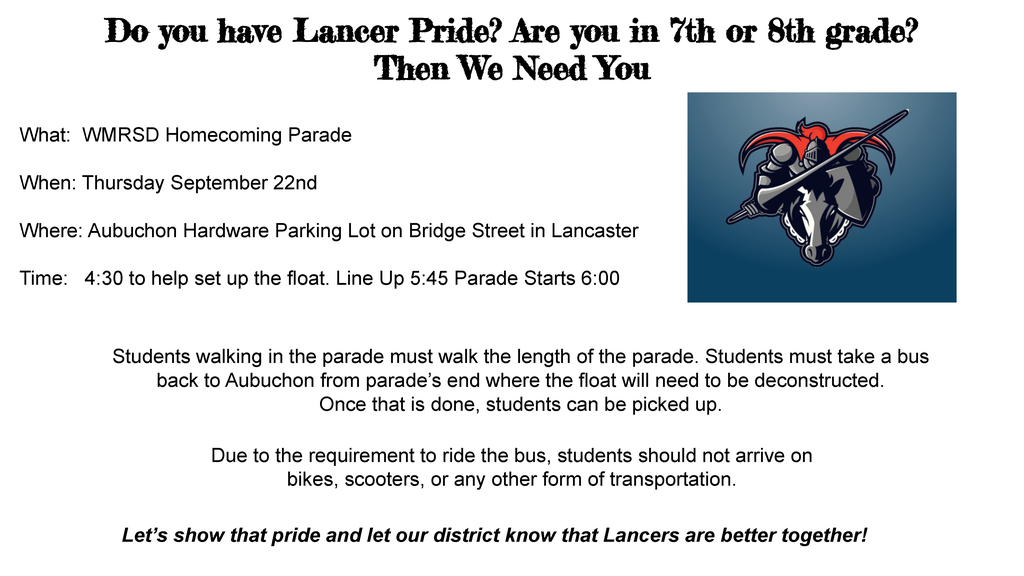 Today's boys soccer game with Lisbon has been postponed. No practice There will be no girls soccer and field hockey practices today either. There will be no sports bus as well.


We have made a few changes for transportation this week for the soccer game at Profile on Wednesday and for the FH game at Campton on Thursday. On Wednesday, the LES soccer players will board the sports bus from LES at 2:45 and bring them to WES to catch the bus that is going to the game in Profile. The bus to Profile will depart at 3:30. Students that are at WMRHS for CTE will take bus 105 to WES. Also on Wednesday, the MS Field Hockey team is coming to the high school to watch the varsity game. They will take bus 137 from WES and bus 103 to get to the high school. On Thursday, the LES field hockey players will take the sports bus that will leave LES at 2:45 to WES to catch the bus that is going to the game in Campton. Students that are at WMRHS for CTE will take bus 105 to WES. The bus to Campton will depart WES at 3:30. The sports bus will return to LES to drop off the WES soccer players for practice. Ms Brady

Brooke Ramsdell Memorial Family Fun Run/Walk and Kids Dash will be held on the trail system at WMRHS Sunday, September 25th 10am, Registration 9am. All details on the flyer:
https://5il.co/1hugk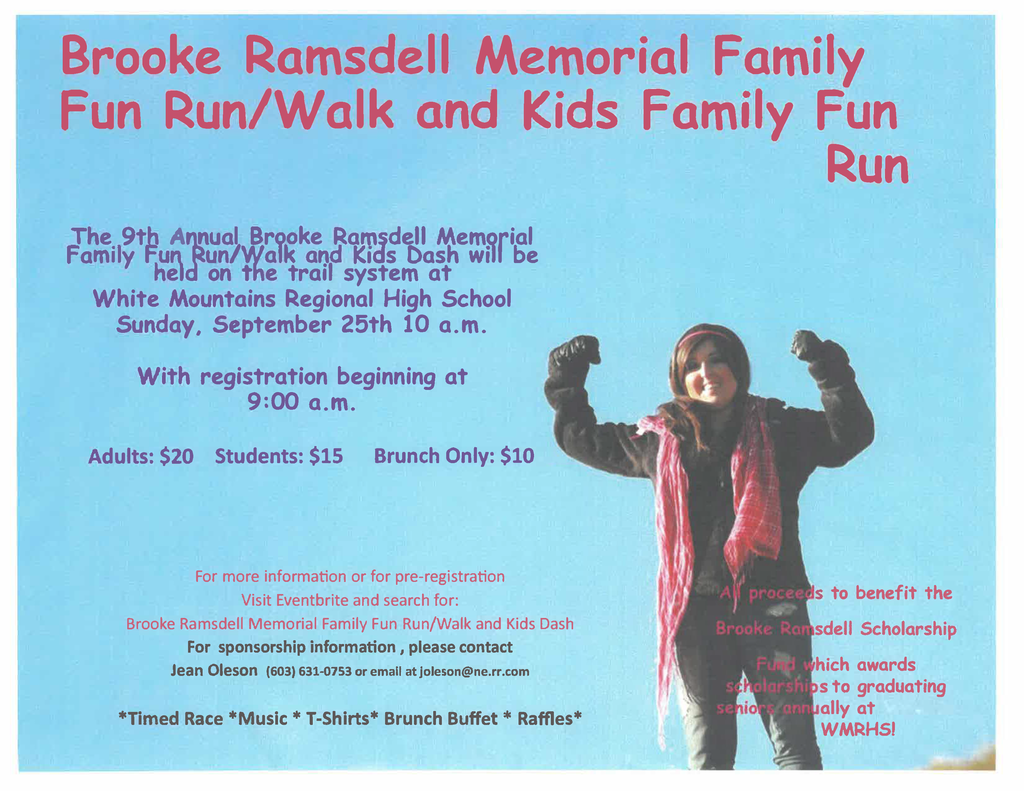 Here is the Middle School Athletic Schedule for 9/4-9/10 from Kerry Brady, WMRSD Athletic Director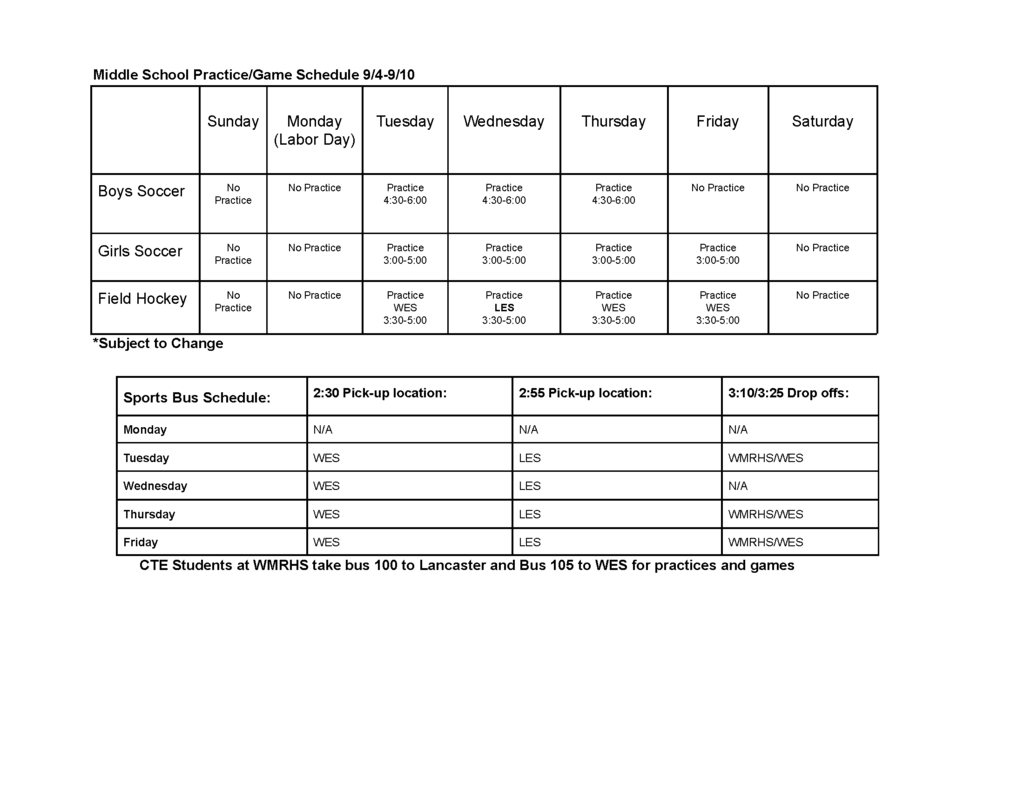 Good morning, I wanted to update you on some changes in COVID-19 vaccine guidance. DHHS is moving away from using the phrase "fully vaccinated" and transitioning to the phrase "up to date" on receiving all recommended COVID-19 vaccine doses. Those who are "up to date" will not only have the best protection from illness, but will NOT be required to quarantine if they have a household exposure. Everyone ages 5 years through 49 years should receive a primary series of Covid-19 vaccines and a booster dose 5 months after the final dose in their primary series. Adults ages 50 years and older should receive a primary series of vaccines, followed by a booster 5 months after the final dose in the primary series and a second booster 4 months after the first booster. The vaccine guidance can be confusing, so please reach out to one of your school nurses if you need any clarification. Trish Belanger Lancaster School Nurse (603) 788-4924

Lancaster Elementary School has launched an official online spirit wear store. Choose from hundreds of designs and garments that are delivered to your home in days! To celebrate the grand opening, use code SPIRIT515-FS to receive 25% off and get free shipping on orders over $50. Shop at
https://1stplace.sale/60007
.

Monday, May 2nd will be the first day of our new traffic pattern at LES. Please take a few moments to review the image attached. We have changed all of the signs and will have a staff member as you enter the school grounds to help with any questions that you may have.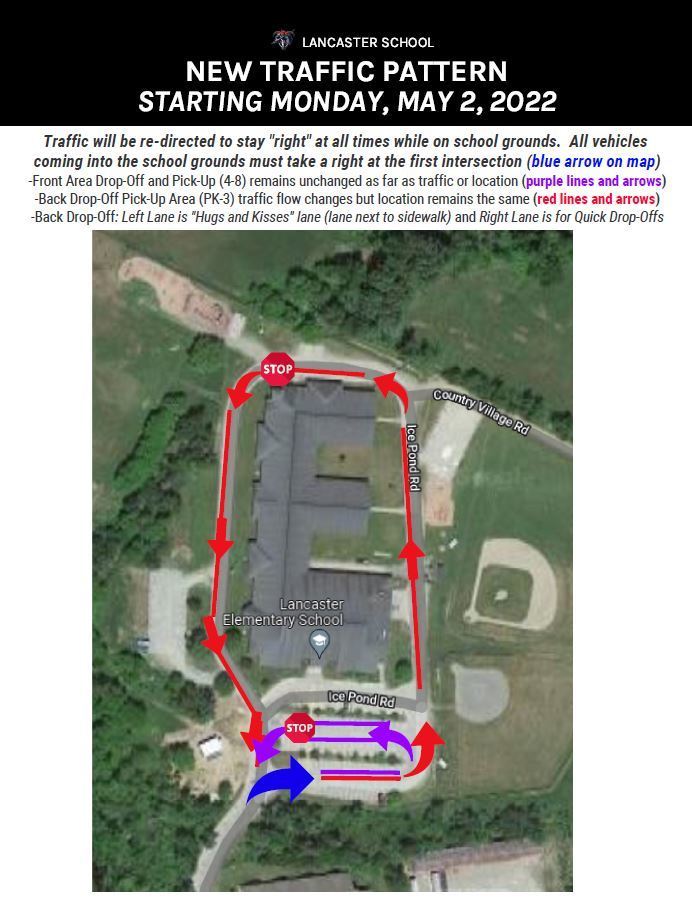 Our School District is located in the beautiful White Mountains in northern New Hampshire. Our district includes three schools and one administrative office serving the communities of Carroll, Dalton, Jefferson, Lancaster, and Whitefield.